This site optimized for desktop or tablet. On your phone? Just select a menu item and then scroll down for results...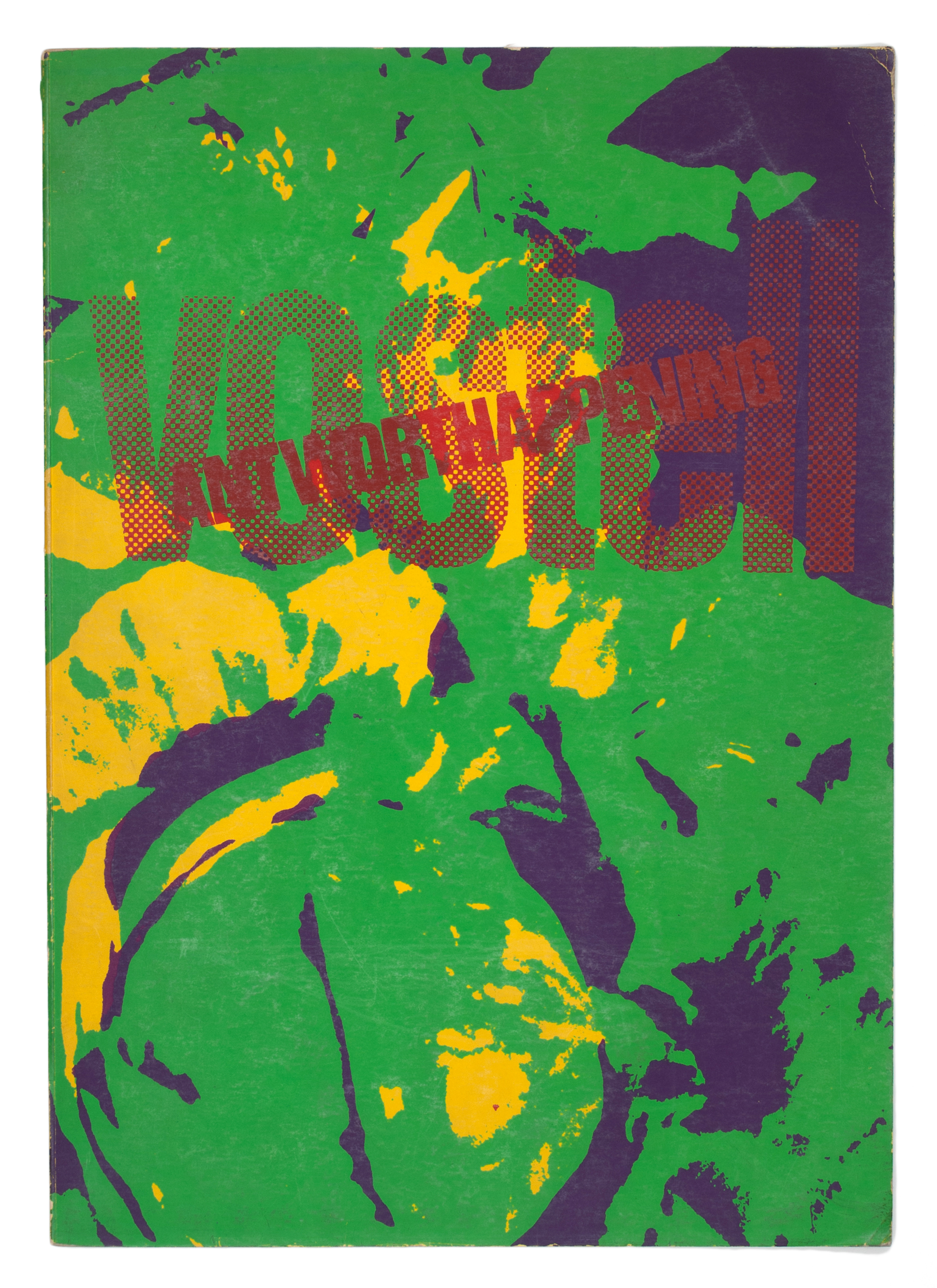 Vostell, Wolf /
Vostell-Antwort-Happening.
Stuttgart: Junge Presse D, 1973.
---
#17325. Vibrant silk-screened wrappers (30 x 21 cm.), designed and printed by Dietrich von Oppeln. Modest edge-wear and rubbing to covers, with humidity affecting lower edge of contents (no staining). Hand-numbered to colophon as 6 of 100 copies. Contents: [88] pages of facsimiles: of correspondence, artist statements, flyers, reviews, drawings, etc.

---
In 1970, Wolf Vostell tested the minimalist borders of Eat Art with Salat; an ambitious happening (and naturalist dé-coll/age) in which the same crates of lettuce were shipped back- and-forth between Köln and Aachen for a year. Over time, the decomposition of the produce was measured, with the results finally exhibited at at Berlin's Galerie René Block.
Here, in 1973, Thomas Niehöster published an homage to Vostell—both as conceptual artist and graphic designer—by compiling this lovingly-printed compendium of materials relating to
Salat
; composed from commissioned responses by "young authors, photographers, and graphic artists from the scene."
Printed in a run of 100 copies, with only 4 OCLC records discovered; one in North America (NYPL).
Also: from the original
Salat
exhibition at René Block, we have scarce copies of the
invitation and catalogue
.
︎︎︎

150 USD
Institutional policies accommodated; reciprocal terms extended to trade. Inquires via email, phone (+1 416 729 7043), or Chat box below (EST). Priority given to first interest.
Tracked shipping charged at cost. Notice of returns accepted within 15 days of receipt. Payment via credit card, PayPal, or cheque.