This site optimized for desktop or tablet. On your phone? Just select a menu item and then scroll down for results...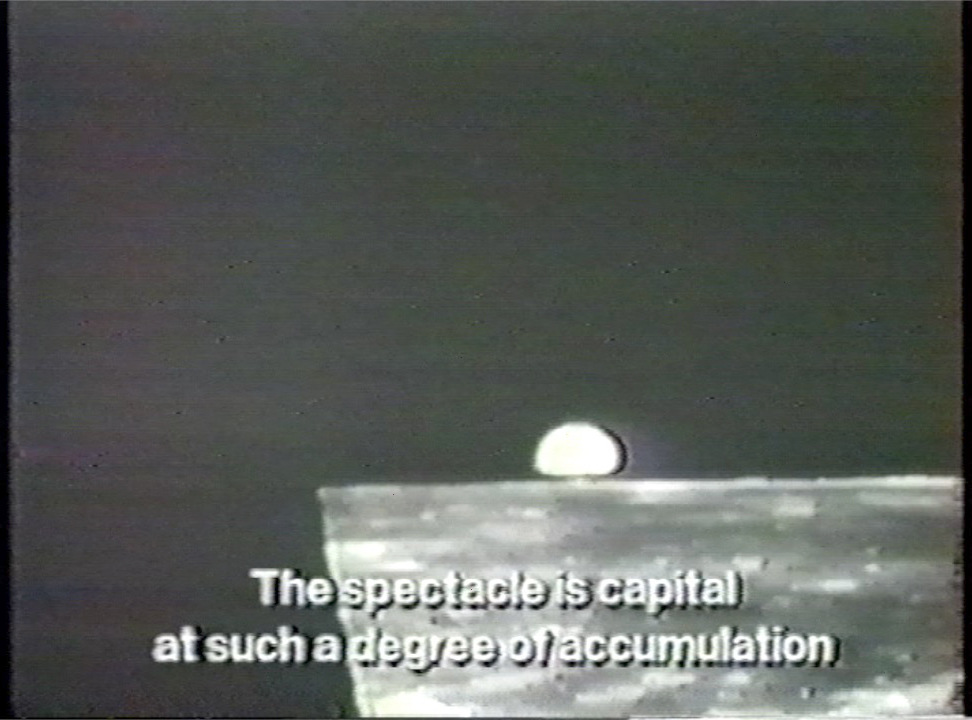 Debord, Guy
La société du spectacle. [Bootlegger's bootleg].
Maastricht: Jan van Eyck Academie,1997.
---
#16853. VHS cassette (PAL), with manuscript titles to label. Run-time of 87:45, with French audio and English subtitles. Preserved in original case with printed liner notes (Dutch and English). Digitally-archived as .mov file (19.95 GB); housed in accompanying USB key.

---
In 1973, Guy Debord produced
La societé du spectacle
, a cinematic adaptation of his 1967 text of the same name. Removed from circulation in the early 1980s, this collage-film sunk into relative obscurity, until it was aired on national French television following Debord's 1994 suicide. From a dubbed version of that memorial broadcast, the SUNY film professor Keith Sanborn produced a VHS version with English subtitles, under the cover of "Ediciones La Calavera," providing the form through which Debord's film would finally reach North American audiences.
Selling VHS cassettes of his version for $30, both through mail-order and at screenings, Sanborn would draw the ire of the radicals behind the
Not Bored!
zine, who started to troll Sanborn in 1996 and offer their own dubs (of his dub) for $5 each. Ironically, the success of
Not Bored!
was unsustainable, and, by 2003 (after a brief price hike to $10), they were forced to concede that they couldn't justify the labour required to meet demand for the tapes; encouraging those who wanted a copy, pre-YouTube, to wait for the upcoming DVD release by Gaumont.
In 1997, back in Europe, another bootleg of the Calavera tape was produced, in the context of a symposium/exhibition on consumer culture organized by a research group at the Jan Van Eyck Academie in Maastricht. "The bootlegger's bootleg of the film without copyrights!" The present cassette issues from this latter edition; digitized by us in the Winter of 2020; provided with this VHS artifact via USB key.
Watch the
opening scenes
and an excerpt on
police violence
.
︎︎︎

250 USD
Institutional policies accommodated; reciprocal terms extended to trade. Inquires via email, phone (+1 416 729 7043), or Chat box below (EST). Priority given to first interest.
Tracked shipping charged at cost. Notice of returns accepted within 15 days of receipt. Payment via credit card, PayPal, or cheque.