This site optimized for desktop or tablet. On your phone? Just select a menu item and then scroll down for results...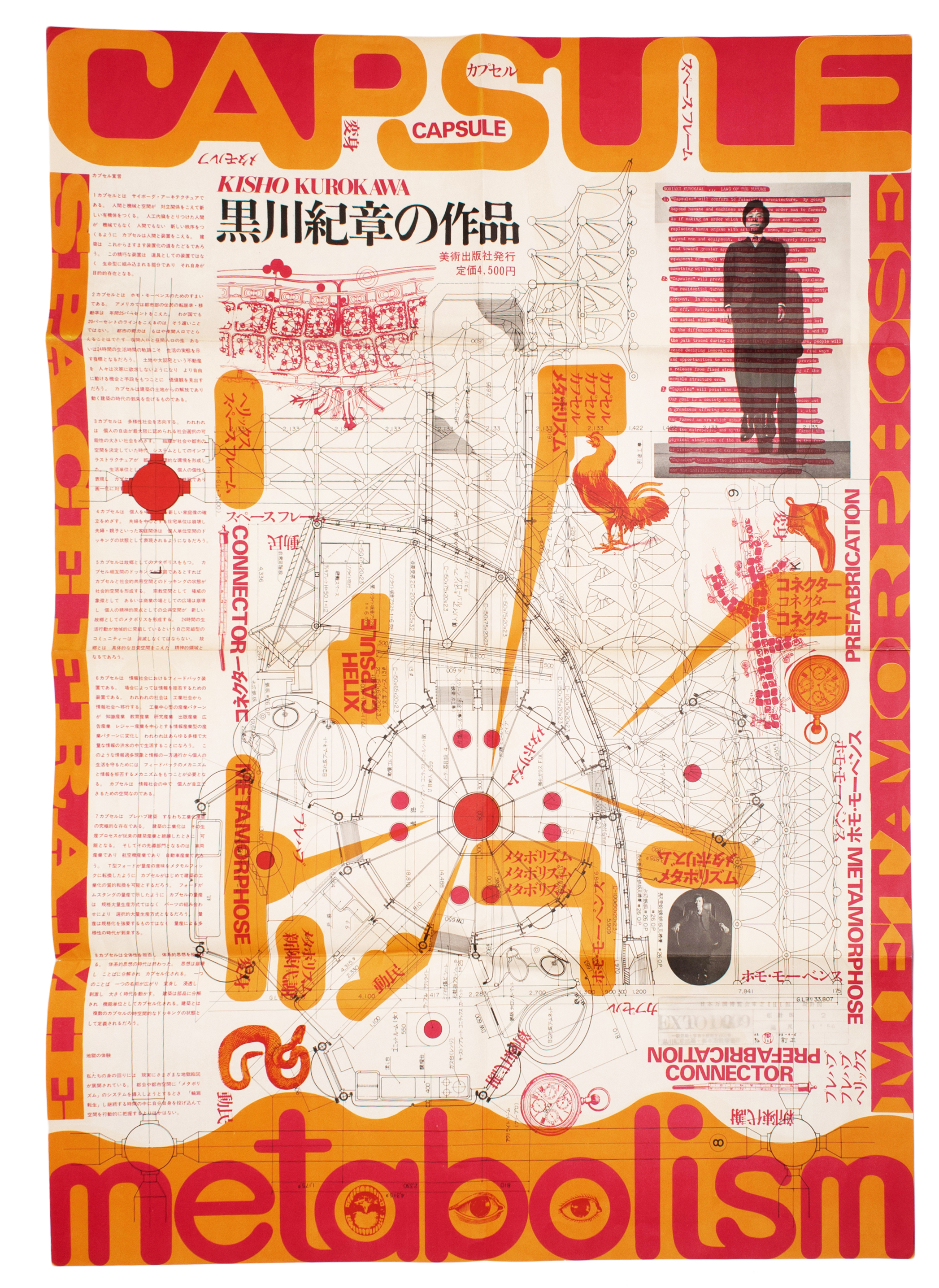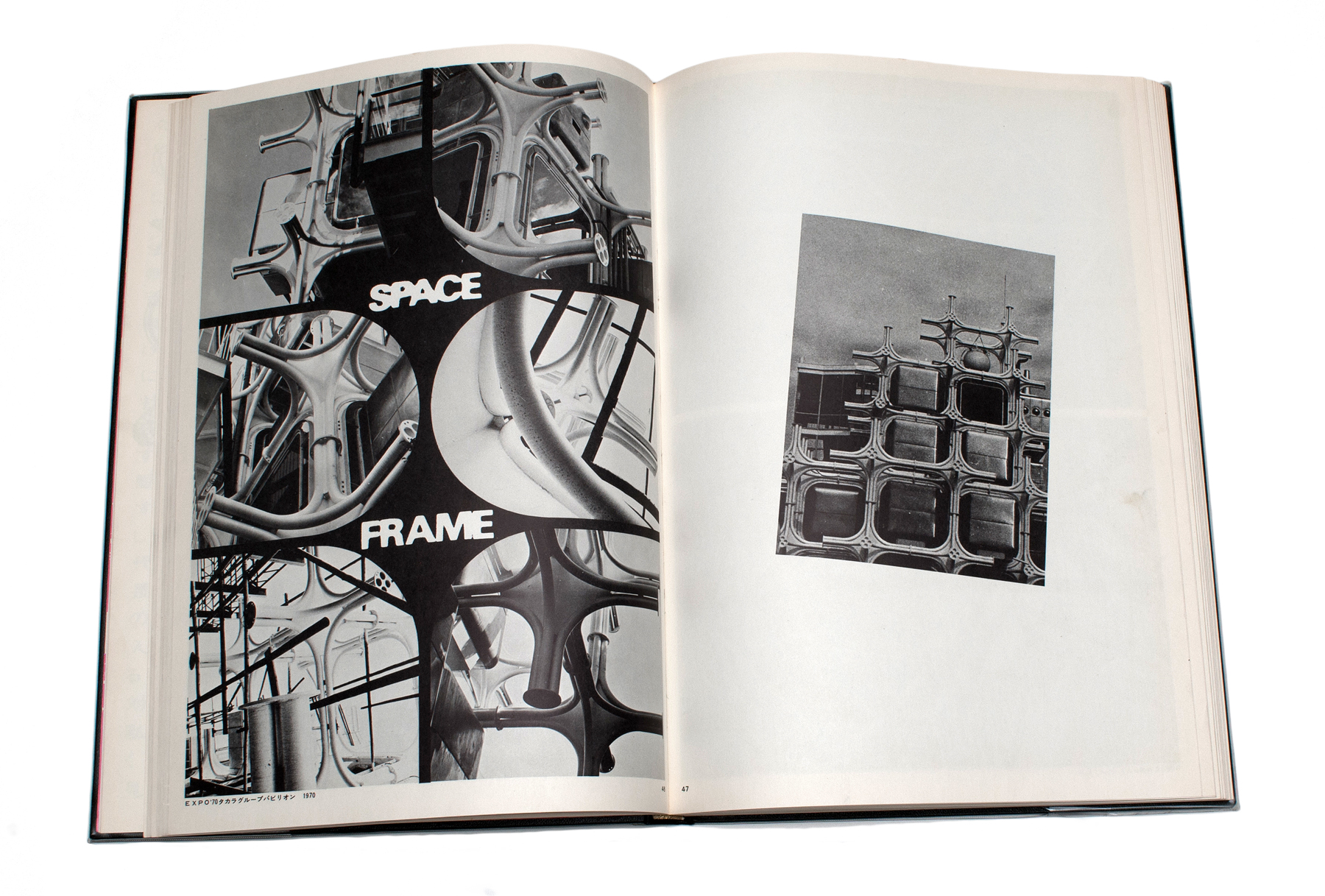 Kurokawa, Kisho
Kisho Kurokawa. [His work].
Tokyo: Bijutsu Shuppansha, 1970.
---
#16876. Artist book, housed within original illustrated cardboard slipcase; minor soiling and fading to panels, with joints professionally-restored. Multi-media contents comprise: (1) monograph with gilt-ornamented boards (37 cm)., preserved in original transparent jacket. Contents: 151, [1] pages, fully-illustrated after black-and-white photographs and reproductions of architectural drawings and plans. A handful of pages printed on colour sheets, with bright-pink endpapers. Text in Japanese. Accompanied by: (2) over-sized poster (102 x 72 cm., folded as quarto), with recto printed in vibrant red, orange, and black, featuring a dense collage of photographs, drawings, plans, and text (in both Japanese and English), including Kurokawa's three "Laws of the future" for capsule architecture. The verso of the poster features a full-sheet collage of images and text, brightly-printed in neon pink. With small tear professionally repaired; an otherwise bright and crisp copy. (3) Also: a 7" vinyl record, featuring a composition entitled Music for living space, with illustrated labels to both sides of record; preserved within original illustrated sleeve, printed red-on-white (Near Fine). Record has been digitally-archived to .wav file; included in this group on USB key.

---
With this ambitious multi-media artist book—featuring a monograph/portfolio of his architectural works, an experimental vinyl record, and an expansive poster that foregrounds a photo of his levitating body—Kisho Kurokawa attempted to cement his reputation as one of the leaders of the Metabolist movement. Produced to coincide with Expo 70 in Osaka, where the Metabolists had been given free architectural rein—with Kurosawa himself commissioned to direct three major building projects.
Both the poster and record operate as manifestos in the context of Kurokawa's vision of "capsule architecture," i.e. the architecture best-suited to the emerging forms of cyborg and mobile Life. On the record, composed by Yoko Ono's former husband Toshi Ichiyanagi, the six articles of Kurokawa's Capsule creed are intoned by a
computer-generated voice
, as accompanied by the sounds of Gregorian chants and heart-beat. Pairs well with quarantine.
With a dozen OCLC records discovered in North America; only one in Canada (CCA).
︎︎︎

1800 USD
Institutional policies accommodated; reciprocal terms extended to trade. Inquires via email, phone (+1 416 729 7043), or Chat box below (EST). Priority given to first interest.
Tracked shipping charged at cost. Notice of returns accepted within 15 days of receipt. Payment via credit card, PayPal, or cheque.