This site optimized for desktop or tablet. On your phone? Just select a menu item and then scroll down for results...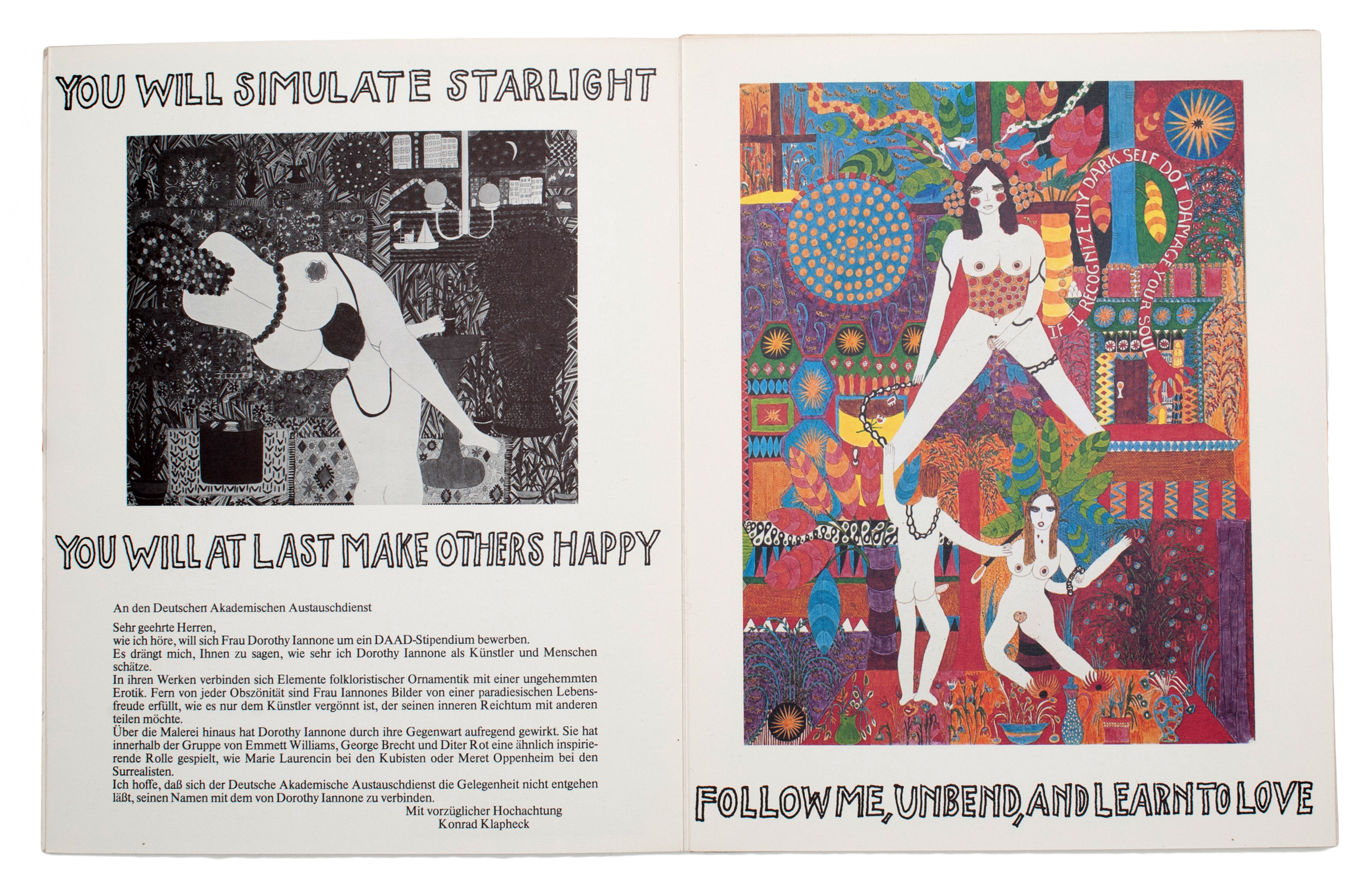 Iannone, Dorothy
Follow me.
Berlin: Deutschen Akademischen Austauschdienstes (DAAD), 1978.
---
#17296. Leporello (25 x 19.5 cm.); illustrated covers with black ties. Unfortunate blemish to front panel, presumably from old strip of tape; otherwise a fresh copy. Contents printed recto/verso for a double narrative of [32] pages; fully-illustrated, with 5 panels in-colour. Photos by Mary Harding. Affixed to verso of rear cover: an illustrated sleeve (I am tender...) housing vinyl record (45 rpm), with illustrated labels to both sides, featuring the songs Follow me and Und du, Herr Hoffman (with piano by Jochen Ruopp). Digitally-archived as .wav fils; housed in accompanying USB key.

---
"For many years now, Dorothy Iannone has been investigating—through her visual work, her books and her records—the world of love and loving-styles. In her original (re)-search, she skillfully blends imagery and text, beauty and truth. She is a freedom-fighter, and a forceful and dedicated artist. Her aim is no less than human liberation…" (Robert Filliou).
Drawing its title from the 1977 artwork birthed from her DAAD residency in Berlin, this artist-book-as-catalogue functions both as document and celebration of Iannone's
multi-disciplinary work
of the previous decade—a compendium of her images, sculptures, video installations, sounds, and the poetry of her texts; seducing backwards, towards a kind of primal matriarchy.
These pages are further sprinkled with praise from her contemporaries: with short quotes from Konrad Klapcheck, Robert Filliou, Daniel Spoerri, George Brecht, Ben Vautier, and Mary Harding; along with an interpretive text from Karl Ruhrberg ("Confessions and secrecy").
Also featuring a vinyl record in which Iannone sings the cabaret-inspired
Follow me
(in English), and the German song
Und du, Herr Hoffman
(with piano accompaniment by Jochen Ruopp); both songs transferred to .wav files and provided on USB key.
With less than a dozen OCLC records discovered in North America.
︎︎︎

350 USD
Institutional policies accommodated; reciprocal terms extended to trade. Inquires via email, phone (+1 416 729 7043), or Chat box below (EST). Priority given to first interest.
Tracked shipping charged at cost. Notice of returns accepted within 15 days of receipt. Payment via credit card, PayPal, or cheque.