This site optimized for desktop or tablet. On your phone? Just select a menu item and then scroll down for results...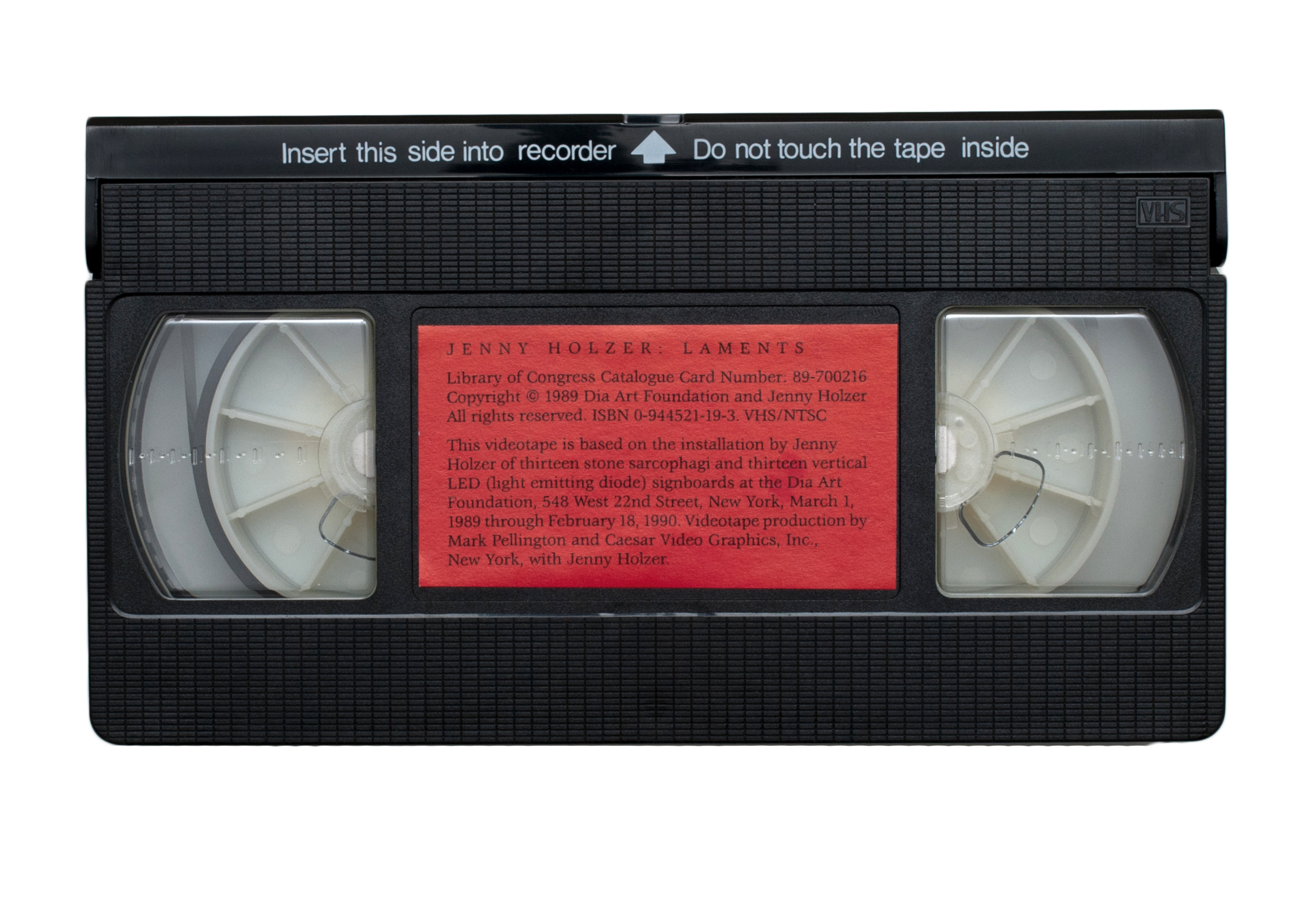 Holzer, Jenny
Laments.
New York: Dia Art Foundation, 1989.
---
#17298. VHS (NTSC) cassette, with descriptive black-on-red label. Housed in contemporary case, with titles printed on gray stock, inserted into transparent sleeve. Contents (09:15) archivally-digitized in January 2020 (.wav file, 2.1GB); housed on accompanying USB key.
---
"This videotape is based on the installation by Jenny Holzer of thirteen stone sarcophagi and thirteen vertical LED signboards at the Dia Art Foundation, 548 West 22nd Street, New York, March 1, 1989 through February 18, 1990. Videotape production by Mark Pellington and Caesar Video Graphics, Inc., New York, with Jenny Holzer."
Issued along with an artist book that featured facsimile drawings of the inscriptions for the 13 stone sarcophagi, intended for the voices of ten adults, two children, and one infant. The video, produced with Holzer's participation, dramatizes the installation, with actors reading the inscriptions as they crawl across the screen, backed by haunting music.
To view our digitized version of the video,
see here
.
︎︎︎

250 USD
Institutional policies accommodated; reciprocal terms extended to trade. Inquires via email, phone (+1 416 729 7043), or Chat box below (EST). Priority given to first interest.
Tracked shipping charged at cost. Notice of returns accepted within 15 days of receipt. Payment via credit card, PayPal, or cheque.